Regular price
$8.99 USD
Sale price
$8.99 USD
Unit price
per
Sale
Sold out

ON THE COVER

Joel Fonder's Multi-Level Layout
Publisher's Corner
Standing Tall (Part 4)
Editor's Corner
Two Track Gauges on One Layout
Feature Layouts
COVER STORY - A Multi Level O Gauge Layout by Joel Fonder
Configuring Multi-Pole Switches for Siding Selection by Wesley Swartz
Australia's Gold Coast Model Railroad Club Layout by Dallas Dogger
Build the Gulf Coast and Omega RR by Ken Hoganson
Product Reviews by Eric Siegel
Atlas O Premier SD40-2

Lionel LionChief Plus 2.0 GP20

Product Showcase
2 Exciting New Buildings from Menards!
Readers' Rails

Photos from Peter Caldwell, John Penca, and Melvin Garelick's Layouts
Second Section
Excursion Car Model by Dennis Schlossman
Daylighting a Tunnel: Part 2 by Donald Keiser
Team Track with Dave Minarik

Project Engines: The Old Becomes New Again
Collector's Gallery
LCCA Convention Boxcar
The OGR Advertiser Index
Share
View full details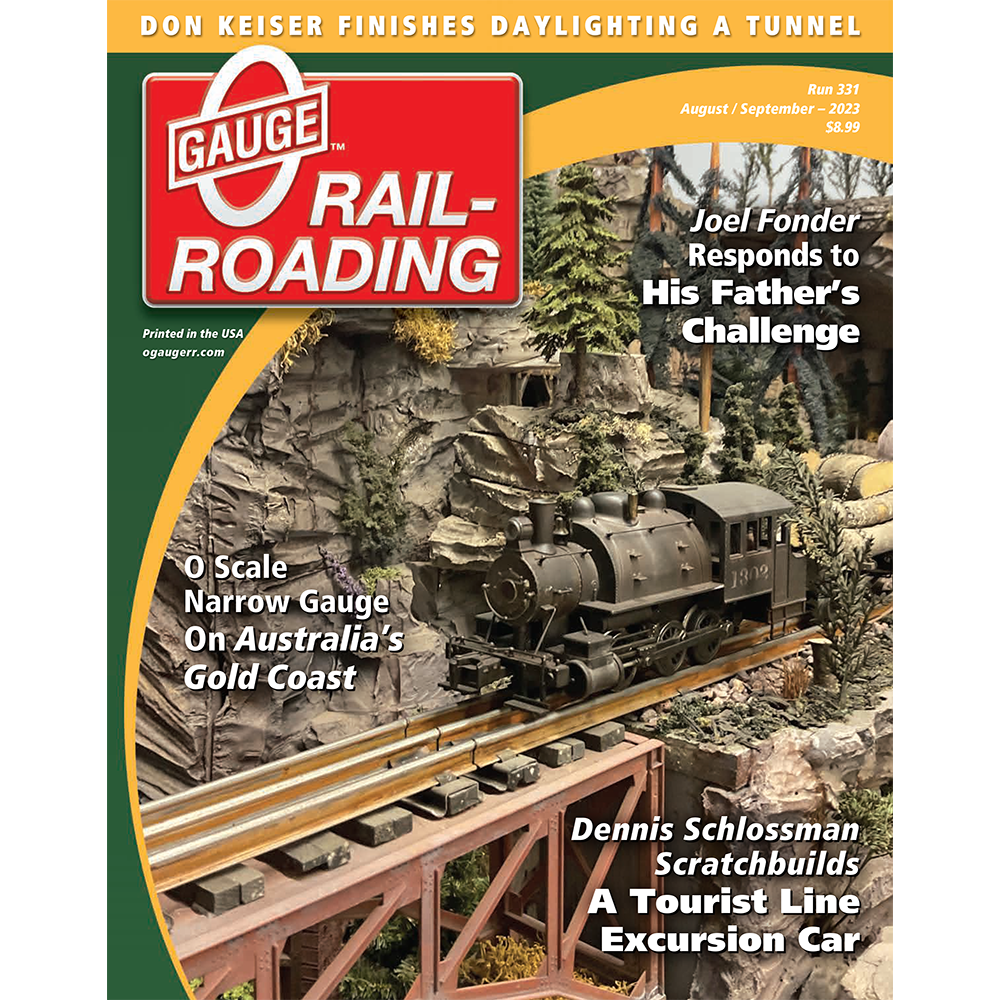 An electrical engineer enjoys his trains and sharing some wiring tips
I am a regular, many year subscriber to "O Gauge Railroading" and I got the extra copies of Run 331 to share with my nephews who are also into model and full sized trains because I authored an article in this issue. But there are other articles in this issue that are more spectacular than mine! I particularly liked "My Father's Challenge" by Joel Fonder and "Narrow Gauge Down Under" by Dallas Dogger. I also picked up some great ideas from "Daylight a Tunnel: Part 2" by Donald Keiser that will be useful as I try to complete a BIG mountain that has steep and high cliffs needing extensive retaining walls. Thank you OGR!
OGRR Run 331
Ordered six extra copies for family members, as my layout was featured. The front cover on the first, or top magazine had a large crease in it from someone packing the shipping envelope. This could have been avoided if they had put the magazines in the envelope spine first. Was a little disappointed, but not the end of the world.